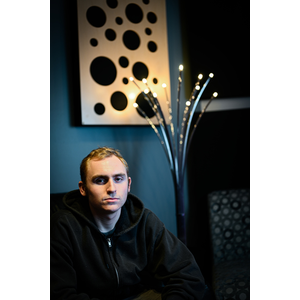 Matt DeAngelis - Speak For A Moment
Alternative/Alt. Rock
New Jersey, United States
Overall Impression: Speak For A Moment seamlessly blends retro and modern elements of Pop and Rock without sacrificing taste or excitement. It immediately dazzles with a larger than life guitar solo before transforming into a driving and daring groove. There are moments that Rock hard, and others that dance exuberantly. Sandwiched between killer instrumental breaks, the chorus is an absolute ear worm. It propels the song's message of living life to the fullest straight into the listener's permanent memory. This is the type of tune that sounds so good and is so positive, you just feel better knowing you can listen to it whenever you like. With the release of Speak For A Moment, Matt DeAngelis further establishes himself as one of the most exciting emerging artists on the Pop and Rock scenes.
Strongest Point(s): As with the rest of DeAngelis's recent output, the production value on Speak For A Moment is excellent. There is so much color, motion, and excitement in each sound. DeAngelis sings with a very cool style and approach. The influence he takes from the great Pop singers is clear, but he brings his own voice to the mix and does not disappoint. Fantastic work by everyone involved.
Target Audience Appeal: Fans of Pop and Rock will enjoy Speak For A Moment by Matt DeAngelis.
Artist target suggestions: George Michael, Queen, Kenny Loggins, David Bowie, Ed Sheeran, Harry Styles, Billy Joel, Bruno Mars, John Lennon, Kate Bush, Rush, Michael Jackson, Prince, The Killers
Interested in having your Song Reviewed by our Professional Staff? Head to your RadioAirplay.com dash and click Song Reviews under the Special Offers menu!
About the Reviewer:
Zachary Larson is a professional guitarist and multi-instrumentalist in New York City. He performs frequently on Broadway and has toured with several musicals, onboard cruise lines, and as a classical chamber musician. His recorded work spans across Classical, Musical Theater, and Pop music. He holds a Master's degree in music and has been part of the Radio Airplay team for two years.